I am so excited that Flux Theatre Ensemble will be producing my new play Operating Systems! Al info below, cross-posted from Flux's blog.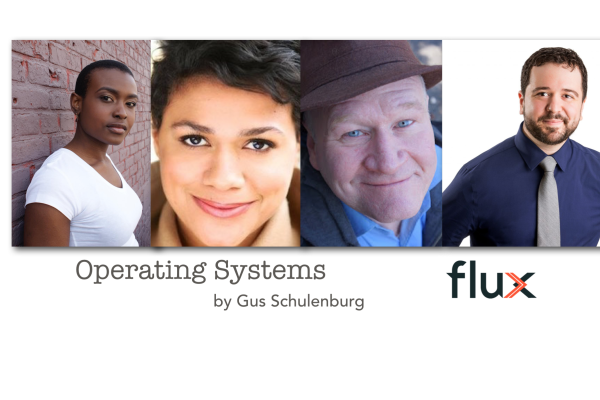 CASTING: DANI, 20s-30s, transmasc non-binary person of color (they/them). Dani was a student at Code Breakers,  a not-for-profit that teaches software engineering to black and brown high school girls, and has returned as IT director and teacher. They are passionate about comic books, advanced mathematics, and talking to the audience instead of real people.
CALL: Auditions will be held from 2-4pm on Friday, 12/14. Please email director Emily Hartford at emily@fluxtheatre.org for details and to schedule an appointment. Rehearsals begin January 25th, and the play runs from March 2-16 at the Experimental Theater at Abrons Arts Center, NYC. $400 minimum stipend for rehearsals and production.
SYNOPSIS:  When Benita is promoted to CEO of Code Breakers, she's greeted by two immediate challenges. The first: to address a controversy over rejecting a white student's application to the program. The second: managing the retirement of Stephen, her mentor and Code Breakers' charismatic founder. When Jake, an old college friend turned conservative journalist, contacts her for a story, she views the offer as a chance to seize back the narrative. But when Bel, a new Code Breakers employee, accuses Stephen of sexual misconduct, the narrative spins out of her control. One way through the crisis may live in Dani, Benita's former student and the audience's intermediary and co-investigator of the difficult truths embedded in the code of the play.
Operating Systems wrestles with how internalized oppression often makes us reinforce oppressive systems even as we work toward justice. In a tokenizing system that often positions oppressed peoples against each other, can the relationships at the heart of the play survive? Is it better to leverage the resources of these systems in service of justice, or to burn the whole thing down?
CURRENT CREATIVE TEAM: As an ensemble committed to building an artistic home, Flux creates work with and for our growing core community of artists. For Operating Systems, the following roles were written for and will be played by:
BENITA (she/her): Lori Elizabeth Parquet
BEL (she/her): Morgan McGuire
JAKE (he/him): Isaiah Tanenbaum
STEPHEN (he/him): John Lenartz
The creative team includes:
Director: Emily Hartford
Lighting Designer: Kia Rogers
Scenic Designer: Lauren Girouard
Production Manager: Jaclyn Biskup
Scenic Design Consultant: Will Lowry