Tonight I'll be facilitating a post-reading discussion of the themes of Rage Play by Nandita Shenoy along with the director Lori Elizabeth Parquet. In December of last year, I facilitated a similar post-workshop talkback, and I was moved and energized by the conversations we had about uprooting internalized patriarchy and then disrupting and dismantling it everywhere.
It was a significant talkback for me, because it was my first Flux Theatre Ensemble event as an out trans woman. To be a visibly trans person is to feel as though everyone is clocking you, because they very often are. In these kinds of spaces, that curiosity is mostly benign, but that doesn't make it any less tiring. And then I was working through my (ongoing) fears over the sound of my voices. How could I hold space and I was barely holding myself together?
Thankfully, Lori had staged the workshop in the thrust, which in the intimate setting of Torn Page meant that our energies were already centered because there was nowhere else for those energies to go. (It's a reminder that the physical space—how people are situated, how breath will be shared, how voices will resonate—is a core consideration for facilitation.) And this house of Flux friends really showed up for it, speaking honestly and sometimes painfully about the costs of patriarchy in our theatre field and beyond.
So, feeling a little more together personally, I'm excited to co-host another talkback about Rage Play tonight! Will you be there?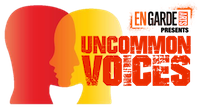 Uncommon Voices – Flux Theatre Ensemble's Rage Play
by Nandita Shenoy, directed by Lori Elizabeth Parquet
Monday, May 6, 2019
 at
 7:30PM
The Commons Cafe
388 Atlantic Avenue
between Hoyt and Bond
A/C/G at Hoyt-Schermerhorn; F at Bergen Street; B/M/Q/R/2/3/4/5 at Atlantic Ave – Barclay Center; LIRR at Flatbush Avenue
Doors open at 6:30! Food and Drink Available
In RAGE PLAY, three women find themselves standing over the man they've killed. Yet in their own theatrical version of Russian Doll, he keeps coming back. Again and again and again. Inspired by the #MeToo movement, Nandita Shenoy's outrageous black comedy explores the cost women face in fighting back against misogyny and patriarchy, and how they might be complicit in these systems. Through their purgatory, the women aim for liberation…and maybe even a little sweet revenge. RAGE PLAY is par